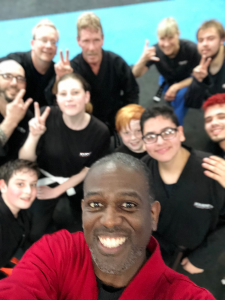 Hi, I'm Clayton Johnson, the head of Journey Martial Arts and I've been teaching in Setauket, Port Jefferson, Mt. Sinai, and Miller Place area for over 25 years.  I have seen literally thousands of people grow from infants into adults and I have seen their lives affected positively though martial arts training.
Our dynamic curriculum is Kempo based and is so much more than getting fit and learning self-defense. Journey Kempo places a strong emphasis on personal development and empowers people of all ages to achieve their full potential.  We make martial arts so enjoyable that you'll love coming back for more. Our students truly have a good time as they begin to carry their heads a little higher and speak with more confidence.  We firmly believe that the journey makes the destination worthwhile. That means we do our best to learn, improve, help others, and have fun every day.
Our Invitation to You
We can't wait to see how your life changes from our classes too.  Click this button: Contact Us Today and you will have the chance to learn about our amazing trial offer.  Otherwise, don't hesitate to give us a call and we can get you started over the phone:  (631) 476-1801
We are looking forward to meeting you.
Clayton Johnson